---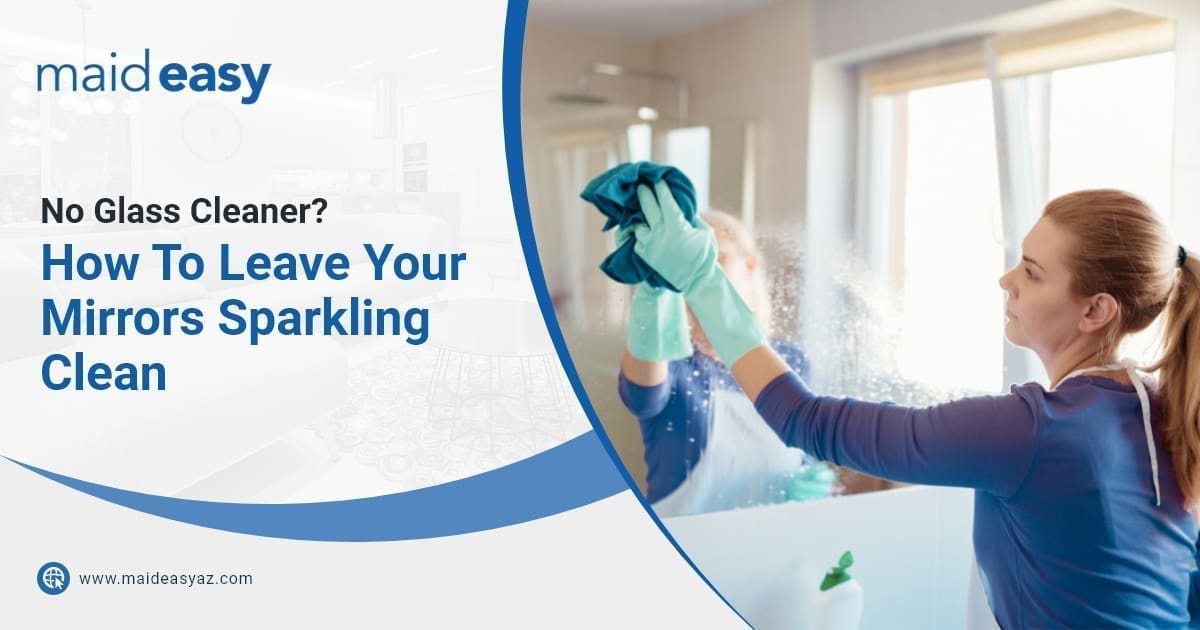 Cleaning your mirrors without glass cleaner is not only possible but also offers a range of effective and affordable alternatives. With these methods, you can enjoy a sparkling reflection in no time. 
In this guide, we will explore various techniques and provide you with practical alternatives to clean a mirror without glass cleaner. Whether you prefer natural remedies or have run out of cleaning supplies, these methods will help you achieve streak-free mirrors that shine with clarity.
How to clean a mirror with vinegar
Vinegar is a versatile household ingredient that can effectively clean many surfaces in your home, including mirrors. No wonder why it's the first choice of many homeowners for this tasks since vinegar's acidity works wonders in removing dirt, fingerprints, and smudges from mirrors without leaving streaks.
Follow these simple steps: 
Start by preparing a simple yet powerful vinegar and water cleaning solution. In a clean spray bottle, mix equal parts distilled white vinegar and water. Then, shake the bottle gently to mix the ingredients thoroughly.

Lightly spray the solution onto the mirror's surface, ensuring even coverage. Use a lint-free microfiber cloth or a newspaper to wipe the mirror in vertical or circular motions. 
As mentioned, the acidity of the vinegar helps dissolve grime and smudges, leaving you with a crystal-clear reflection.
How to clean a mirror with rubbing alcohol 
Rubbing alcohol is another effective option for achieving streak-free mirrors. This solution is particularly useful for removing stubborn smudges and fingerprints. Besides, rubbing alcohol evaporates quickly, reducing the chances of streaks and leaving your mirror spotless and gleaming.
To clean your mirrors using this method, create a simple solution using rubbing alcohol and water. Mix one part rubbing alcohol and two parts water in a spray bottle. Then, gently shake the bottle to mix the ingredients thoroughly. 
With the mix ready, lightly spray the solution onto the mirror surface, ensuring even coverage. Use a lint-free microfiber cloth or a coffee filter to wipe the mirror in straight, overlapping strokes. 
3. Toothpaste Method
Believe it or not, toothpaste can also clean mirrors effectively. Toothpaste contains mild abrasives, which can help remove tough stains and smudges. For that reason, toothpaste is best used for removing specific stains rather than cleaning the entire mirror surface. 
Here's a step-by-step guide on how to clean mirrors with toothpaste:
Apply a small amount of non-gel toothpaste onto a soft cloth or a damp sponge.

Apply the toothpaste onto the spot you want to remove and rub it gently in circular motions.

Rinse the spots with warm water, ensuring all toothpaste traces are removed. 

Finally, dry the mirror using a lint-free microfiber cloth to reveal a clean, smudge-free surface.
Learn more useful cleaning tips
At Maid Easy, we are committed to delivering exceptional cleaning services, so we know a thing or two about house cleaning. Do you want to clean your house like a pro? Visit our blog to learn all the useful home cleaning tips we have for you! 
Also, you can learn more about how our professional team can keep your home spotless by visiting our homepage.
---
---