---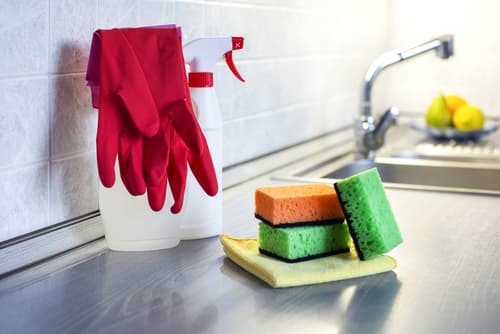 When tackling the germiest areas in your home, you normally focus on the bathroom. While the area does require a lot of attention, the kitchen is actually the primary microbe hotspot.
Preventing bacteria from spreading in the kitchen takes a lot of effort, and you may be ignoring the main culprit – your sponge. If you're using the item to wash your dishes, cups, flatware, and cups, they might not be as clean as you think due to potential bacteria.
As a result, the most logical question to ask is whether or not you should keep using a kitchen sponge, and your trusted Buenavante house cleaning experts are about to tell you! Read on for some valuable insight.
Are kitchen sponges sanitary?
Apart from doing the dishes, you might be using your sponge to remove dirt from your countertops and deal with germs on food preparation surfaces. However, this is highly counterproductive since sponges are real breeding grounds for bacteria.
It's no surprise, either, considering the amount of food residue that can linger inside this porous item. Sponges also have numerous moist spots that lure microbes and provide them with ideal living conditions.
These cleaning tools are never fully dry. Since you can never completely rinse food out of your sponge, they aren't sanitary cleaning supplies.
Does boiling a sponge sanitize it?
Contrary to popular belief, throwing your kitchen sponge in boiling water doesn't sanitize it properly. In fact, this process can reinforce the presence of certain types of bacteria and make them even more dangerous than unwashed ones. Instead, you can try the following approaches:
Bleach
The most effective method for removing bacteria from the sponge is to clean it with a solution of water and bleach. It can eliminate nearly 100% of E. coli, pseudomonas bacteria, and salmonella. To make the mixture, add one quart water to three tablespoons bleach. Soak your sponge for about five minutes and rinse.
Microwaving
The next best method is to microwave the sponge. While it may not kill as many E. coli bacteria as bleach, it can still destroy enough of them to sanitize the sponge. Just remember to wet your sponge thoroughly before zapping to avoid starting a fire in the microwave. Furthermore, dry it thoroughly before reusing it because the dampness can attract more germs.
Dishwasher
Throwing your sponge in the dishwasher is less effective than both previous approaches. Still, it can kill a large number of bacteria. If you choose this strategy, avoid using the energy-saving mode.
Is it better to wash dishes with a sponge or dishcloth?
In most cases, your dishrag is really no better than your kitchen sponge. It can contain vicious bacteria, too, that can compromise your health if contracted.
If you still plan on using dishrags, the best course of action is to replace them about once every seven days. Bacteria can only live for a couple of hours on dry surfaces.
Moreover, make sure to wash rags in your washing machine and dry them at high temperatures. Let them dry out thoroughly after each use since most germs thrive in moist environments only.
The second-to-none Buenavante house cleaning has got your back
Maid Easy works with friendly house cleaning professionals who go the extra mile to provide high-quality services each and every time. We understand just how important a clean home is, and we'll help you achieve that. Give us a call, and we'll pair you up with top-rated maids who are fully committed to meeting your expectations.
While the experts are taking care of the dirty work, take your family out for some sightseeing at Tempe Town Lake. You'll return to a thoroughly clean home.
Book our services now!
---
---