---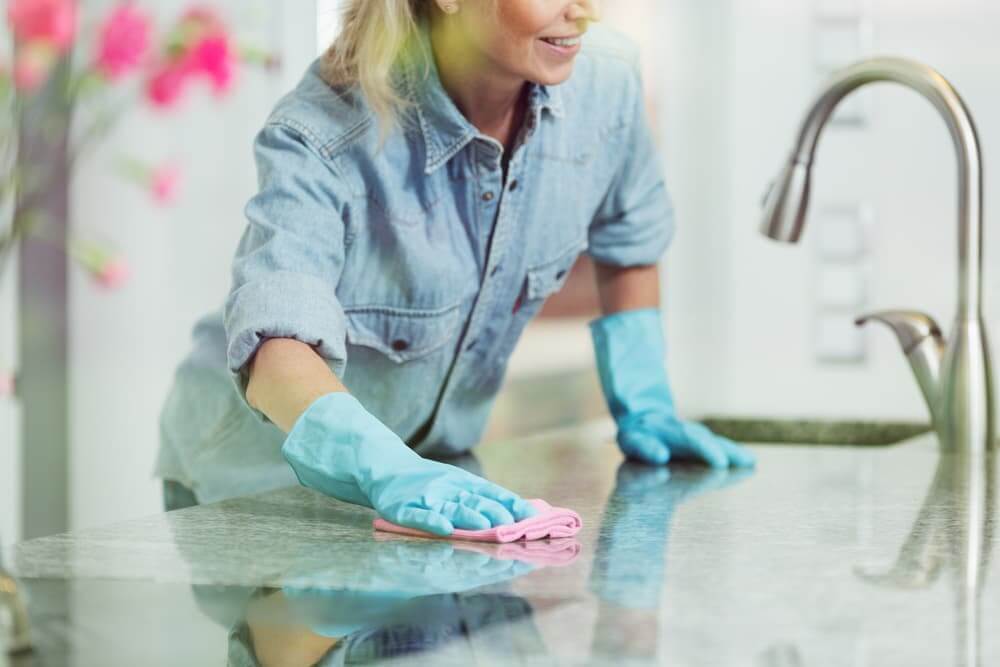 Your kitchen countertop is the workhorse of the room. Even if you're not doing any cooking, you probably still use the countertop to unpack groceries or do other tasks. And when you do decide to cook a delicious meal, the surface gets splattered with a bunch of ingredients and packed with crumbs. Maybe you take the time to sweep it every night, but what about giving your countertop a more thorough treatment? 
Deep cleaning your countertops once in a while is a good idea. It helps you remove stubborn stains from the surface and keep it in tip-top condition. To find out how to deep clean your countertop, just read through the rest of the article. Your trusted house cleaning experts in Buenavante, Scottsdale have prepared a bunch of handy cleaning tips! 
How do you deep clean countertops? 
Deep cleaning and sanitizing your countertops is a big part of preventing germ build-up in the kitchen. But just like sanitizing your dishes and doing the dishes with a sponge, you need to complete the chore correctly to get the desired results. Granite is one of the most popular countertop materials, but it's also notoriously difficult to clean. Here's how to go about cleaning dirty granite surfaces: 
Remove any items from the countertops 
Make sure that there's no food or drink on the surface because they can get in the way of cleaning. If there's stuck-on food, place a damp microfiber cloth on top of it and let it rest for a couple of minutes. It should be easier to wipe away. 
Get rid of watermarks 
Add a tiny amount of a commercial powdered cleanser to the surface to test the granite. If it's good to go, apply the cleanser with a microfiber cloth and gently rub the countertop for around 20 seconds. This should deal with any watermarks. 
Do away with any stains 
The quickest way to remove stains is to use a poultice powder. Most granite companies sell these, but you can also buy them online. Apply it to the countertop with a microfiber cloth and rub the surface until the stains are gone. 
Start scrubbing 
Once all the food stains and watermarks are dealt with, it's time to scrub your countertop. Fill your sink with about a gallon of water and add around a tablespoon of soap. Dampen and wring out your microfiber cloth and scrub the surface. Don't forget to get the edges, too, because they tend to collect a lot of dirt. 
Wipe down the granite 
Wash out your microfiber cloth and wipe down the countertop once again with just water. Get rid of any soap residue from the surface, and you're all done. 
What is the best thing to clean countertops with? 
You shouldn't use the same substances for all types of countertops. Otherwise, you may damage the finish and taint their appearance. Here are some of the most common countertop materials and cleaning agents that are safe for their surface:
Concrete: Soap and water.
Granite: Dishwashing detergent and baking soda.
Soapstone: Mineral oil and mild household cleaners.
Limestone: Neutral pH cleaning agents.
Marble: Stone cleaners or mild detergents.
Quartz: Glass or non-abrasive household cleaners.
Book top-of-the-line house cleaning in Buenavante, Scottsdale and say goodbye to dust and grime
Cleaning your home consists of a bevy of different tasks. You have to put in considerable effort and allocate a lot of time to get the job done properly. However, with Maid Easy by your side, you can spare yourself all the hassle. We can connect you with first-class cleaning experts who won't let you down.
Knowing all the cleaning is taken care of, sit back and enjoy the rest of your day. Paying a visit to Scottsdale Fashion Square sounds like a great idea.
Hire Maid Easy Now! We go out of our way to meet and exceed your expectations!
---
---